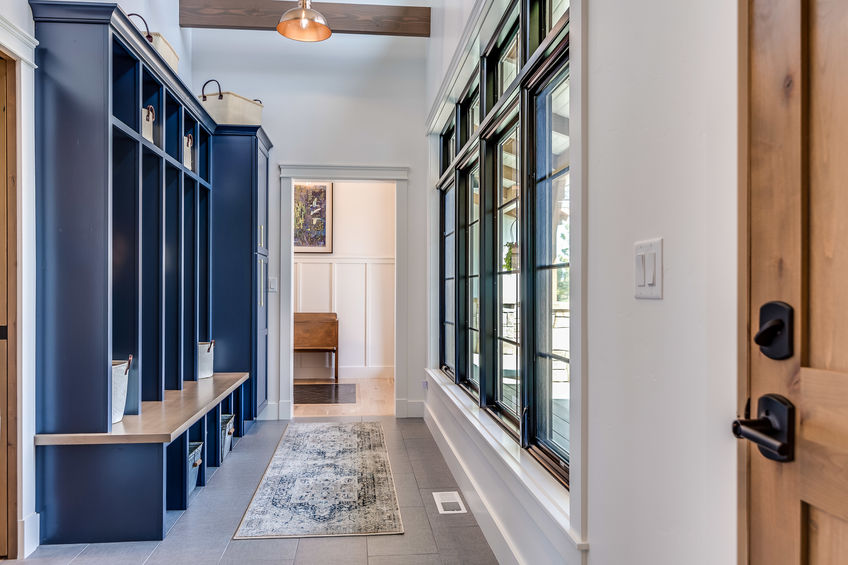 Most of us see our entryway as exactly that: somewhere we come in, and that's it. However, an upgraded entryway can create a positive first impression and add functionality to your daily routines. Below are our tips for renovating your entryway!
Add Personalized Practical Elements
Think about your mornings and evenings – do you head to the gym before work? When you come home, is it a "drop everything and start to relax" situation? Whatever your life looks like, it's important to remember we can adjust our surroundings to help us! Some examples:
Key rack: Position a key rack by the door to always know where your keys are.
Storage bench: Install a storage bench for a comfortable spot to put on or remove shoes, and store items like umbrellas, shovels, and raincoats.
Shoe cubby: Opt for a shoe cubby to keep pairs organized without stacking them on top of one another.
Decorative mirror: Hang a decorative mirror to create a sense of spaciousness while providing a convenient spot to check your appearance before leaving.
Bike mount: Consider a bike mount if you're a cyclist, as it prevents constant back-and-forth movement and doubles as a unique decoration.
Mail organizer: Use a mail organizer to keep counters and tables free from clutter and piles of mail.
By tailoring your entryway to your needs, you'll find it much easier to stay organized and stress-free!
Add Some Décor
Aesthetic elements are just as important as practical ones! Some popular choices are:
If you want to go a bit more involved, consider adding an accent wall, adding shelves, or upgrading your lighting!
Upgrade The Flooring
Entryways can be a hub for dirt, water, and grime. It can be exhausting to be constantly cleaning, and, even worse, the wrong flooring can lead to costly damage. To keep your entryway looking fresh and minimize maintenance, consider upgrading your flooring.
Vinyl flooring is an excellent choice for its affordability and durability. It can mimic the look of materials like hardwood or stone while providing a softer and warmer underfoot. Another great choice is tile flooring! Its durability and resistance to moisture make it an ideal option for high-traffic areas like entryways.
Both choices are versatile and easy to clean– so if some mud tracks in, no worries! Although, we always recommend having a rubber shoe mat handy to let shoes dry off!
As Phoenix's premier premium flooring retailer, Carpet Closeouts offers high-quality flooring at affordable prices. We offer all major flooring types and run specials to ensure you get the best deal possible. Our team is happy to work with you and answer any questions you may have to ensure you get the right flooring for your home, and we ship our flooring throughout the United States. To get a quote, give us a call at 602-493-7700. For more information and tips, visit our blog!