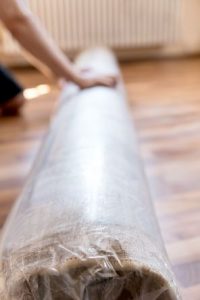 Carpeting—or hardwood flooring? It's a question that many homeowners ask themselves when it's time to replace the flooring in their houses. Both are excellent options and both come with their own advantages. Check out some of those advantages below and carefully consider them before deciding which would be best for you.
The Advantages of Carpeting
When you have new carpeting installed in your home, the installation process is typically quick and painless. You can usually have the carpeting installed in a matter of just a few hours, if that. Carpeting is also very affordable, and as long as you maintain it properly, it should last you for years. You can take care of carpeting by vacuuming it regularly and steam cleaning it on occasion. Carpeting comes in a range of different colors, patterns, and textures, and you can pick whatever suits your home best. Carpeting can be used to add warmth to any room, and it will provide you with cushioning if you decide to sit on the floor or have children who play on it.
The Advantages of Hardwood Flooring
When you have new hardwood flooring installed in your home, the installation process will take slightly longer than the carpet installation process, but it will be well worth it. Hardwood floors will usually last you for years, and most hardwood floors can handle normal wear and tear without showing any signs of damage or age. Hardwood flooring is usually very easy to maintain, as simply wiping it down with a dry mop will get rid of dirt and dust, and hardwood flooring will add an immediate value to your home. You can also pick and choose from different types of hardwood flooring based on the way the rest of your house looks.
Regardless of whether you ultimately decide to go with carpeting or hardwood flooring, Carpet Closeouts can provide you with either one and offer expert installation of it. You will love your new flooring when you obtain it from us. Call Carpet Closeouts at 602-493-7700 today to begin the process of picking out the perfect flooring for your home.