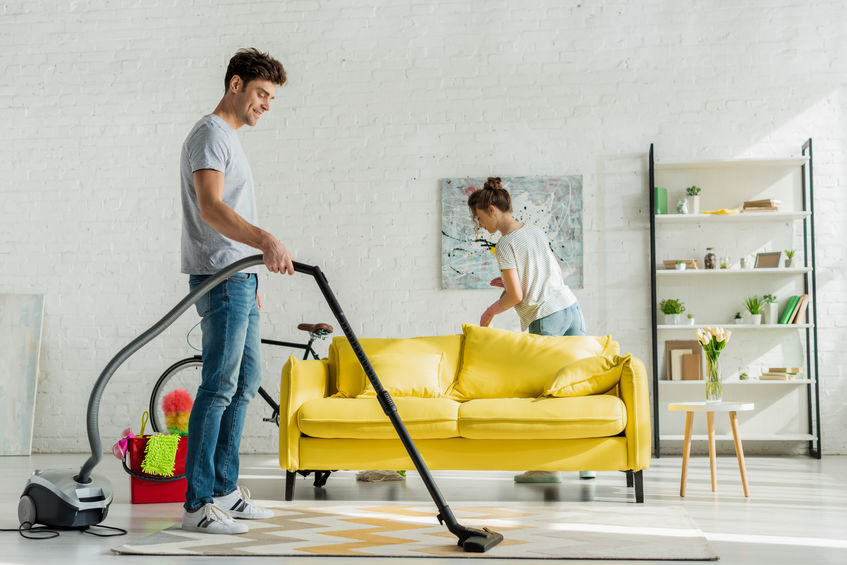 Spring is almost here, and with it comes spring cleaning! While no rule says you must partake in spring cleaning, it is a great time to open up the windows and give everything a good scrub. Below are our tips for spring cleaning for each type of flooring!
First Steps
Before you break out the mop, there are a few steps to get through!
Dust. We mean dust everything; the fan blades, air vents, lampshades, desks…If a surface can gather dust, dust it off and let the dust settle to the floor.
Declutter. Getting toys, clothes, and random items out of the room and put away ensures you have room to navigate.
Pre-treat. After doing the above, go in and pre-treat any stains or marks. This could be putting some carpet stain remover on a tough stain or soaking some hardened pasta sauce you missed during your weekly cleanup.
Carpeting
For a truly deep clean, many people rent steam cleaners. However, if you want to use what you have at home, we understand! Here's how to get your carpet deep cleaned at home:
Start by vacuuming the edges and corners of your carpet with the hose attachment (it's better if you have a small angled one!).
Slowly vacuum in rows and empty your vacuum after.
Sprinkle deodorizing powder. Make sure you don't use too much! Let that sit undisturbed for the recommended time.
Slowly vacuum up the powder.
Tile and Stone
Tile and stone can be a breeze to clean, especially if you have the proper tools. For a good spring cleaning:
Begin by sweeping your floors.
Fill your mop bucket with hot water and add a safe cleaning product for your flooring.
Begin to mop, making sure to get each corner.
Repeat, changing out the water until the water is clear.
Air dry.
Since this is a deep clean rather than weekly upkeep, use a soft brush or steam cleaner to clean the grout, too!
Hardwood and Vinyl Flooring
Our tips to give you a squeaky clean, shiny floor are:
Start by sweeping or wiping the floor with a microfiber cloth.
Use hot water and your floor cleaner of choice.
Wet and ring out your mop (you want it slightly damp, not soaking wet). Begin slowly mopping in even rows.
Repeat, changing out the water until the water is clear.
You can either go over your floor with a clean, dry microfiber rag to dry or let it air dry.
If you notice your floors are damaged or want to upgrade your home to have cohesive flooring for easy cleaning, look no further. At Carpet Closeouts, not only do we offer all major flooring types, such as: hardwood, carpet, vinyl, tile, and area rugs, but we also offer custom rugs!
We offer high-quality flooring at affordable prices and run specials to help you save even more! We are Phoenix's premier premium flooring retailer, and if you're not in Phoenix, don't panic; we will ship our flooring anywhere throughout the United States. Our team is happy to work with you to ensure you get the right flooring for your home and family. To get a quote or to get started on updating your flooring, give us a call at 602-493-7700. For more information, or to learn more about the flooring we offer, visit our blog!