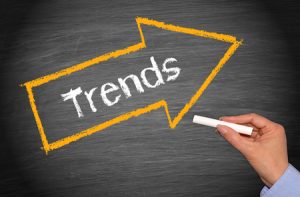 If you've been wondering about upcoming carpet trends, you've come to the right place. In 2019, what are some carpet trends you'll notice?
Big Is Back
First, expect bigger sizes all around. "Bigger is better" is a term that comes and goes, trend-wise, in America, and now it's back for 2019. Therefore, expect to see people buying carpets that fit their space. In the past, people would settle for standard sizes and smaller sizes, but nowadays, it's all about custom-made carpets that fit the exact dimensions people want– covering up flooring so that the carpet is wall-to-wall or almost all the way wall-to-wall.
Low-Pile Heights
Have you heard of the term "pile" as it relates to carpeting? A rug's pile refers to the density of fibers– so flat is to short pile as shaggy is to long pile. Meanwhile, pile height is the thickness of a rug measured from the surface of a rug to its backing. So here's the question? Pile-wise, what's "in" for 2019? Low-pile heights is the answer. They're easy to clean, and people especially like that they don't show any marks when doors or furniture get moved over them.
Key Space
What's the "key space" for carpeting in 2019? This will be the year people will care about carpeting their entryways. Now most people would assume you'd put a dark colored carpet in the entryway, but in 2019 the trend is to use lighter colors, including beiges, whites and greys. The intent is to make an entryway look luxurious– people should "ooh and aah" over your entryway carpet in 2019.
Get Your Fiber Here
As for the rest of the house, what's a fiber that's "the fiber" for 2019? That would be jute. Not only will jute offer a lot of "looks" for a room, but it's also good for people who have allergies. Look for more rooms with jute carpeting in them in the coming years.
These Colors
Finally, consider colors. Doesn't it seem like certain colors fall in and out of favor every couple years? That's certainly the case, and in 2019 expect to see blue, green, taupe and burgundy as the most popular, fashionable choices in carpeting colors. Meanwhile, the trend is multicolored rugs, so don't be afraid to buy carpeting that has more than one color in it. 2019 is a good year to be somewhat adventurous in the colors and designs you pick for your home or business.
In the Phoenix area, come shop at Carpet Closeouts, where you'll get premium brands at wholesale prices.