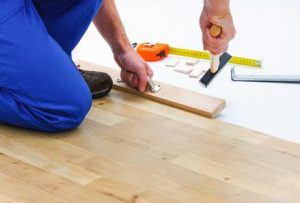 One of the main reasons people choose laminate flooring these days is because it does such a good job of imitating the wood look– at a much lower price!
Indeed, laminate was developed several decades ago as an alternative to the more expensive wood flooring so common in older homes from another era. As with most things, laminate has kept up with the times, having been developed to become even better than it used to be. Not only does the laminate flooring of today offer higher quality than its predecessors, but it's also available in even more colors, styles, and, best of all, "wood species."
Laminate Flooring Options
Are you looking for a wood look without the expense of wood? Laminate flooring offers every look from rustic to futuristic– there's oak, hickory, tigerwood, prado, and even the incorporation of stone, tile and/or metal accents.
Design Process
Today's laminate flooring uses a photographic process for its design. Did you know that a high-resolution image can be taken of actual wood and then that image gets printed and glued on to the materials that eventually become your laminate flooring? How cool is that?
Versatility
Laminate works well in so many homes and offices because it has a tough and clear "top wear" layer– which helps resist scratches and such over the years. Plus, it doesn't absorb moisture.  If you spill something on laminate, just wipe it up with a cloth.
Installation Process
Do you want to install flooring over flooring? Laminate works well when it's lightweight and able to "snap together." It typically comes as planks or tiles, with edges that conveniently snap together. Because of its unique construction, laminate handles changes in humidity well, and doesn't come apart at the seams. Its overall stability is one of its main benefits. Meanwhile, eco-friendly consumers like it because it doesn't use old-growth/exotic trees.
Carpet Closeouts of Phoenix offers lots of laminate flooring at wholesale prices. Are you looking for premium brand laminate? Look no further! Call 602-493-7700 or visit the store at 17442 N. Cave Creek Road in Phoenix. You can also see available styles here: