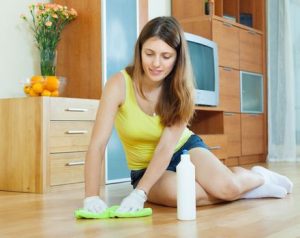 Have the hardwood floors in your home seen better days? You could hire someone to come in and refinish them for you. However, you can also buff hardwood floors and bring them back to life at just a fraction of the cost of refinishing. Before you start the buffing process, though, you will need to obtain the right equipment for the job. There are specific buffing machines that can be used to buff hardwood floors. You will also need to follow a few helpful tips for buffing hardwood flooring. Check them out below.
Remove wax from your hardwood floors.
Before you start buffing, it's important for you to remove any wax  that might be on the top surface of your hardwood floors. This is not terribly difficult to do. By using a wax stripper, you can get the wax off your hardwood floors quickly. Just make sure you follow the instructions on your wax stripper to get the job done right.
Clean your hardwood floors and dry them.
Once you have all of the wax up off your hardwood floors, it will be time for you to clean the floors so that they are as spotless as you can get them. The buffing machine won't be able to do its job if your floors have dirt, dust, and other debris on them. So use a broom and a mop to get everything off your floors, and then make sure you allow them to dry completely before you start buffing.
Keep an eye on the polish pad on your buffing machine.
After you're finished removing the wax from your hardwood floors and cleaning them, it will be time for you to start buffing. You should come up with a plan as far as where you're going to start and what direction you're going to go so that you don't end up trapped in a corner. You should also check the polish pad on your buffing machine regularly. If it ever rips or is coated in the solution that you use to buff your floors, you should replace it with a new one right away before your resume buffing.
If your old hardwood floors are damaged beyond repair, you shouldn't even bother spending too much time trying to buff them. Instead, you should check out the excellent hardwood flooring options available through Carpet Closeouts. Call us at 602-493-7700 today to start shopping around for new hardwood floors for your home.