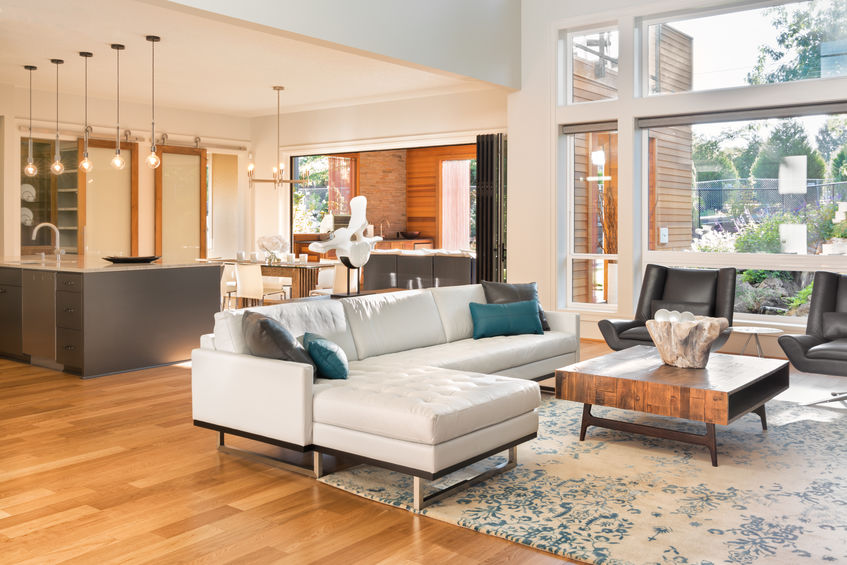 It's almost the new year! If you're ready to start that remodel you've always wanted, now's the time. We're here to give you an inside look at the latest flooring trends that will help you start your remodel.
Whether you plan on remodeling your kitchen, living room, or the entire house, here are some of the predicted flooring trends for 2021:
Combining Hardwood and Tile Flooring
Often, people think that they must choose just one flooring option for their home. However, different floor coverings are great for multi-functional spaces. There is nothing wrong with choosing tiles for part of the floor and hardwood or laminate for the other.
Vinyl Flooring Trends
Vinyl flooring has made quite an improvement over the years. As technology continues to advance, vinyl flooring gets closer to looking like natural wood and stone. Vinyl flooring is a great option for busy families because they involve less maintenance, and they're easy to clean!
For the new year, you can expect to find more waterproof and durable vinyl flooring options. You can even expect to see improvements in the overall look of the flooring. Wood vinyl planks will begin to look even more realistic and high-end. The same goes for stone and trendy decorative flooring options!
Tile Flooring in 2021
Because tile is a naturally waterproof flooring option, most homeowners will use it in their bathrooms, kitchens, and mudrooms! In 2021 you can expect marble tile flooring to become more popular. Marble tile flooring is great because you can experience the high-end look of marble without the expense.
You may also see tiles taking a new shape! Don't be surprised to see more arabesque tiles, fan tiles, hexagon, and more unique shapes.
Carpet Flooring Options
If you've always wanted to add carpeting to your home, now's the time to do it! In 2021 you'll find many new carpeting options to choose from. Some popular colors may include dusty pink, terracotta, shades of yellow, emerald green, and blue.
Area rugs will also remain popular in the new year. A new area rug incorporating these trendy colors will be sure to make a statement in your home this year.
Purchasing New Flooring for Your Home
Are you looking for new, affordable flooring options for your home? Make sure you're checking out the selections at Carpet Closeouts. We are a discount warehouse style flooring store specializing in bringing you floor coverings at huge savings!
Give us a call at (602) 493-7700 to learn more about our products and services!