We live in a unique time, don't we? Things aren't always as they appear to be– take wood, for instance. There are some homes with wooden floors that look stunningly gorgeous, and when you step on these floors you'd never know they weren't actual… wood! Thanks to advancements in technology, wood-looking tile is available and popular and people love it.
Reasons to Consider Wood-Looking Tile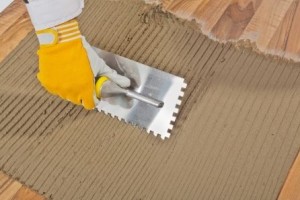 Why would someone choose wood-looking tile over actual wood? There are a couple of reasons.
First, wood-looking tile easily resists moisture. Since it's made from porcelain and grout can be used to seal the tiles (if needed) wood-looking tile can be used in areas where you find water, like bathrooms and kitchens. So, if you spill water or other liquid substances on wood-looking tile, you just wipe it up with a towel and you're good-to-go… rather than having the liquid sink into actual wood, where mold could then build-up over time.
Next, wood-looking tile is easy to maintain. Unlike "real wood," you don't have to go through the time-consuming process of polishing the floor. Instead, wood-looking tile can be cleaned up quickly with a broom or mop.
Also, did you know that wood-looking tile helps with your heating and cooling options? For instance, you can have radiant heating installed under your wood-like tile floor to keep it warm in the winter months. Meanwhile, even though "wood" has a warm look for a room, wood-looking tile, since it's made of porcelain, remains cool to the touch– a good thing in the warm months.
Finally, what makes wood-looking tile particularly appealing to people is that it comes in many design options, fitting whatever decor theme you want. You get to choose the size of tiles to use, and you get to pick out the unique patterns (such as staggered or brick), essentially figuring out how you want your floor to specifically look in the room it'll end up.
Carpet Closeouts can help you pick out the kind of wood-looking tile that'll enhance the look of your home's important rooms like the kitchen and bathroom(s). Please visit the showroom at 17442 N. Cave Creek Road in Phoenix or call 602-493-7700 to discuss your needs today.