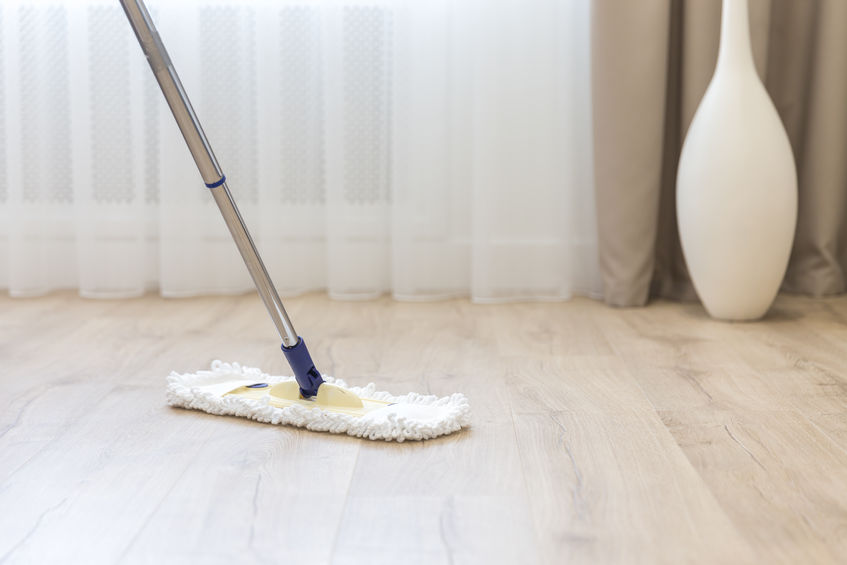 Summer is here, and with it comes a great time to look at your flooring and give it a good clean. Yes, even if you did your spring cleaning, giving your floors a deep clean is never a bad idea. Summer brings fun, but it also brings mud, sand, and sticky treats such as ice pops or s'mores. It's important to make sure your floor stays clean and mess-free! It's easy to get overwhelmed, but this simple list will help break down what to do for each type of flooring, and allow you to spend less time cleaning and more time having summer fun!
For all the flooring types below, begin by wiping up any spills and sweeping or vacuuming the floors.
Carpet
You may have read our post about carpet cleaning mistakes which can help you avoid mistreatment of your carpet. Now that you know what not to do, you can know some things to do! If you are trying to get a specific stain out, many products and home remedies are available. Before getting to work, you must know what the stain is from. For example, let's say you notice that somebody spilled fruit punch. Blot (never rub!) the spot with some paper towels. Create a mixture of ¼ cup white vinegar, 1 tablespoon dish soap, and fill the rest of the container with water. Gently blot that onto the stain and let it soak until cleaning it up by blotting with a clean, dry towel. Most techniques will use this mixture, but it's best to double-check before you begin!
Tile and Vinyl
Sometimes, simple is best! Much like above, you can clean these floor types with a vinegar and water mixture, reducing the specialty cleaners you need to buy. Then make your cleaning mixture, or follow the package directions for one that you buy, pour it into your mop bucket, and begin gently mopping your floors. For any stubborn stains or stickiness, you may have to break out a gentle scrub brush and use some elbow grease. Just make sure you don't use anything highly abrasive!
Stone
Vinegar should not be used to clean stone flooring! In terms of household items, a few small drops of dishwashing detergent in your warm water will work wonderfully! Make sure you don't use too much, or it will leave a film on the floor.
Hardwood
Similar to stone, you should not use vinegar to clean hardwood floors. Your best bet with hardwood is to get specific cleaners! Some hardwood cleaners are meant to be diluted, whereas some you put directly on the floor, so make sure you look at the instructions!
For any of the spots you will be mopping, it's good to frequently change out the water you're using, have a good quality mop, and don't overdo it on the amount of cleaner you are using!
Summer is the perfect time to refresh your home. So, if you've decided to update your home to have cohesive flooring, or maybe you overdid it with some harsh cleaner and need to replace your flooring, we can help! Here at Carpet Closeouts, we are Phoenix's premier premium flooring retailer. We pride ourselves on providing you with excellent quality flooring at affordable costs. To get a quote or to get started on updating your flooring, give us a call at 602-493-7700.