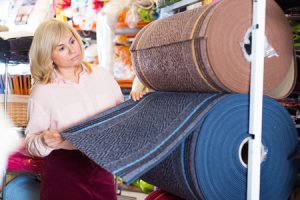 So you want to buy a carpet for your place but you have a limited budget… how can you find a great carpet for a great price?
Choosing the Right Material
One of the most popular types of carpet is made of nylon fibers. While it enjoys a great reputation for its durability and resilience, it's also on the expensive side. If not nylon, then what should you get? How about polyester carpeting? Thanks to recent innovations in the way polyester carpeting is made, it's now more durable than ever. Because polyester accepts vibrant dyes, you're going to be able to choose more bold colors than if you went with nylon. Polyester comes in many colors, styles and, as a bonus, it's naturally stain-resistant. Therefore, put polyester on your radar screen. If, however, polyester is too pricey for your limited budget, then seek out olefin, aka polypropylene. It's one of the least expensive carpet fiber options. If it'll be placed in a low-traffic area, you should be fine with the cut-pile (Saxony) version. Go for the looped form (such as Berber) if you're going to put it in highly trafficked areas.
Stay Loopy
Speaking of Berber, here's a tip: Berber is generally cheaper than cut-piles. That's because all carpets start out as looped. Berbers stay looped, whereas cut-piles have their loop tips sheared off, adding to the process… and thus costing more money. Meanwhile, Berbers are pretty durable because the strongest part of their fiber is the side rather than the top. Because they're looped, the side of the fiber is the part exposed to foot traffic. If Berber isn't your thing, consider frieze– another hardy type of carpeting that's generally good quality at a decent price. Basically, if you have a limited budget, avoid cut-piles and cut and loop styles.
In-Stock
Also, you're likely to save money on carpeting if the retailer already has what you want in stock, rather than having to order it. You might also want to look for carpet remnants or imperfect "seconds," which can be quite affordable.
Under Pads
Finally, you should invest in a high quality pad for under the carpet. It's better to buy a cheap carpet and pricey pad than a cheap pad and pricey carpet. The under pad for carpet needs to be durable– a bonded polyurethane foam underlay gives you good bang for your buck. If and when you can find decently priced carpeting that already comes with cushioned backing (that's already adhered to the back of the carpet), buy it– that's a good thing!
Wholesale Carpets
Carpet Closeouts of Phoenix offers great carpets at great prices. If you have a limited budget, you'll be able to find premium brand carpeting at wholesale prices at Carpet Closeouts.