With more and more people working from home on a full or part-time basis, there has been an increase in the number of home offices being installed.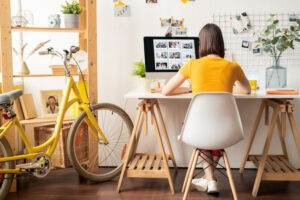 Whether you are transforming a spare bedroom, attic or other space into your new home office, there are several affordable flooring options to choose from.
Many people take advantage of the home atmosphere by adding a comfy carpet or area rug, while others enjoy a more professional setting with hardwood or vinyl tile flooring.
No matter what you may be interested in choosing for your home office, we invite you to explore a few of the more popular ideas to get your creative juices flowing.
Carpeting & area rugs for a cozy feel
One of the best parts of working from home is having a more comfortable space to get your work done. If you enjoy working in your pajamas and favorite t-shirt, why not have a cozy and comfortable carpet or rug at your feet?
Installing a carpet in your home office will not only add to the comfortable atmosphere, but it can create even greater comfort when the temperature lowers. If your home office already has hardwood, vinyl or other flooring in place, consider adding an area rug to make your feet happy.
Hardwood flooring for a cleaner space
If you're transforming a spare bedroom, attic or other space into a home office, consider adding hardwood flooring. This type of flooring is easy to maintain, allowing you to easily cleanup any spilled food or coffee that is bound to hit the floor while you're working.
Since you'll be spending a large majority of your day in your home office, you'll want a space that is clean and fresh for you to be as productive as possible. Hardwood also gives off a professional appearance if you ever need to have coworkers or clients over for a meeting.
Vinyl tile flooring that will last
A benefit of adding vinyl tile flooring to your home office is the durability that will be created. It is very difficult to scratch or tarnish vinyl tile flooring, even with the countless hours of you rolling your office chair back and forth as you work. You won't have to worry about damaging your floor and can spend more time focusing on your job duties.
As an added benefit, you can have a "work buddy'" join you in your office. Your kids or pets can play on the floor freely without worry of scratches or stains.
When you're ready to create a one-of-a-kind office at your home in Phoenix, AZ, we are the team to call on at Carpet Closeouts. We offer quality flooring, including carpeting, hardwood floors and more from several of the top brands in the industry, and always offer our floor options affordable rates.
We look forward to assisting with your home office setup soon and ask that you call today at 602-493-7700 to get started.