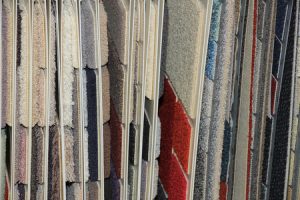 If you get white carpeting, it will look great for quite a while but eventually it might look dirty, especially in the high-traffic areas. That's a problem with white carpeting. So what do people do when they want "white?" They compromise and get a white carpet blended with a couple other colors, like tan, black and brown. That way "dirt" doesn't show! You'll want to seek out a "flecked" look, which means it has a combination of colors.
When choosing a carpet color, you're faced with several decisions. You have to figure out what style of carpet, as well as fiber type, pattern, quality, and… color. That's a lot of decisions.
Visualize
How do you visualize, for yourself, what a certain color might look like filling up your bedroom or living room? Colors can really affect the overall look and feel of a room, right? Lighter colors will lighten up a room and make it look bigger. Darker colors will darken up a room and make it feel smaller. You might want to bring home carpet samples and see how they look in the rooms you plan to change up.
Consider the Rest of the Room
It's a good idea to have your carpet color match something else in the room it's in, such as the sofa or window treatments. Therefore, if you have a brown sofa, get a brown carpet. If your window shades are tan, get tan carpeting. If and when the walls, the carpeting and one or two major defining features in a room are all one color (or variations on that one color) then you have "unity of design," which is most pleasing to the eye.
Neutral is Often Best
Generally, people will tell you to choose "neutral colors" for your carpeting, and they're right! Tan carpeting works well in so many homes because it doesn't clash with other stuff. If, however, you were to get a bright red carpet, that would visually overwhelm people and unless you really loved it, most people would think, "That's a crazy color for the rug. It's just 'too much'!" Think of it this way– for the "bold" colors, you can easily repaint a wall, rather than replace the expensive carpeting.
Need help choosing the right color for your needs? Carpet Closeouts is here to help. Come visit our store in Phoenix at 17442 N. Cave Creek Road and/or call us at 602-493-7700.