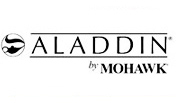 One of the first things your customers notice when they walk in the door is the appearance of your office. Clean and attractive carpets are essential to maintain the welcoming look and feel of your workspace. You also need carpets that work with your budget and handle lots of foot traffic. Carpet Closeouts features discount flooring in Phoenix designed especially for the high demands of a business environment. Aladdin Flooring is among the premier commercial flooring brands, with a variety of durable and attractive carpets to suit any office, home office, or another unique space.
Many different types of businesses, as well as government buildings, non-profits, community buildings and more, trust their floors to Aladdin Flooring by Mohawk. Mohawk is constantly reinventing their flooring options, making each selection modern, stylish and strong. Choose attractive carpets to match the décor of your lobby, your own office, home office, or anywhere you need it. With the right flooring solutions you will not only make your office look clean, modern and welcoming, but you will also save money on flooring replacements over the years.
Give your office a chic, professional look without going over budget. Take a look at the options from Aladdin Flooring by Mohawk and find the perfect addition to your business.