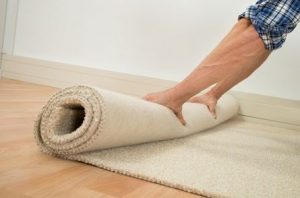 When you go to pick out a new carpet for your home, you will have many decisions to make. Do you want a low or high pile carpet? Do you want a carpet with texturing in it or not? Moreover, what color do you want the carpeting to be? You will have to answer those questions—and many more. You will also need to decide between carpets made out of synthetic or natural carpet fibers, and knowing the difference between the two will be essential prior to making a final decision.
Synthetic Carpet Fibers
Synthetic fiber carpets are made up of fibers that do not exist in nature, like nylon, polyester, polypropylene, and triexta. They are typically more stain resistant than carpets with natural fiber and are usually a little easier to maintain since you can do spot treatments and deep cleaning to them without having to worry about doing damage to them. They are also more cost-effective than most natural fiber options.
Natural Carpet Fibers
While there are many advantages to going with a synthetic fiber carpet, there are also plenty of positives that come along with purchasing a natural fiber carpet. Natural fiber carpets, made using materials like wool, cotton, and sisal, are more eco-friendly than synthetic fiber ones since they include sustainable resources in them. There are also many natural fiber carpets that are more durable than their synthetic counterparts. In addition, many people simply prefer the idea of using natural fibers as opposed to man-made synthetic ones.
Regardless of whether you ultimately decide to go with a synthetic fiber carpet or a natural fiber carpet, Carpet Closeouts has you covered. We carry a large selection of carpets and have something in stock you will love. Call us at 602-493-7700 today to start shopping for carpeting and to discover more about the differences between synthetic and natural fiber carpets.