Most people are familiar with residential carpeting but not as much with commercial carpeting, unless they are the ones responsible for buying new carpet for the office, factory, warehouse or other place of commercial business. What are some similarities and differences between the two types of carpeting?
The Purpose of Residential Carpeting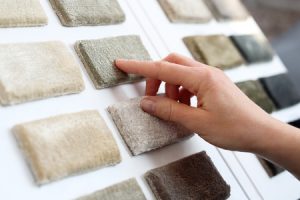 Think of how a carpet will be used by the people who use it daily… With residential carpeting, what do you think are priorities? Most people care about comfort and style when it comes to picking out residential carpets that fit their homes or apartments– and their lifestyles. For instance, people with little kids look for plush carpets with thicker padding– the kind of carpeting kids can play on and not get easily hurt! With commercial carpeting, though, there are usually different priorities, including durability and economy. Most businesses, for instance, want the most durable carpeting for the lowest price. They don't want to spend lavishly on their commercial carpeting, especially if it must cover a very large area, as that can get too expensive, and, thus, out of their budget. That said, they want a durable carpet that will stand up to a lot of traffic over time. Efficiency is key– it should be able to be cleaned quickly and still look good so as to give a good impression to customers.
The Purpose of Commercial Carpeting
Commercial carpeting is especially designed to last longer than residential carpeting under the same heavy use. Most commercial carpets should be expected to last up to ten years before needing to be replaced. What are some factors that determine how long a commercial carpet will last? The denser it is, the longer it should last. If the fiber is made from nylon, that's good because it can be easily cleaned and even treated for stain resistance. Furthermore, commercial carpeting won't show dirt or look bad if it's multi-toned with fairly dark patterns. And if the carpeting is installed correctly with the right padding underneath, expect it to hold up well over the years.
Finding the Right Look
Aesthetically-speaking, expect to find residential carpeting in more color and style options than commercial carpeting. If most offices have carpeting that generally looks the same, that's because there aren't too many choices on the market. Meanwhile, though, if you visit different homes, you're likely to find all sorts of colors, styles and designs– because there are many more options for residential carpeting these days. Who do you think would more likely have darker carpeting– residential or commercial? If you guessed commercial, you're right, because darker doesn't show dirt and wear/tear as much. Residential homes, on the other hand, might have more lighter colored carpets because people take their shoes off and not as many people actually walk on carpeting in the home compared to carpeting in the office. Lighter colored carpeting gives a room an airy, more open vibe.
Walking Expectations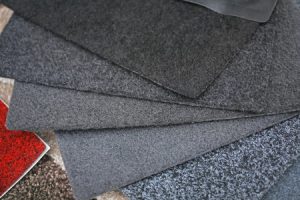 At home, people are likely to walk around barefoot or in socks. Therefore, they want carpeting that feels luxurious underfoot. In commercial settings, people are almost always wearing shoes or other footwear, so plush/luxurious "comfort" underfoot isn't the priority. Residential carpeting utilizes greater pile height and a thicker underlay (which acts as padding) in order to get that plush feel.
Both residential and commercial carpeting requires occasional vacuuming. Commercial carpeting, though, may need more cleaning and maintenance– deep cleans every four to six months– because it has to deal with more people (and their dirty shoes) using it. When residential carpeting gets cleaned by professional cleaning companies, they typically use steam cleaning or the hot-water-extraction method, in contrast to commercial cleaners who will use the low moisture method– known for its quick drying time.
What about expectations? Commercial carpeting needs to last a long time, be durable, and look good for at least a decade. Residential carpeting doesn't have those same expectations. It isn't expected to last as long or endure so much wear-and-tear. A person might change the carpeting in their home every couple years while a business might take a decade (or two) to change things up.
Flooring Options From Carpet Closeouts
There are many flooring options available today. Both commercial and residential customers can choose from things like laminate, vinyl, and carpeting. If you have any questions about residential versus commercial carpeting, why not call Carpet Closeouts at 602-493-7700 or stop by for a visit at 17442 N. Cave Creek Road? Located in Phoenix, AZ, Carpet Closeouts sells premium brands at wholesale prices. Check out residential carpets here. Check out commercial carpets here.