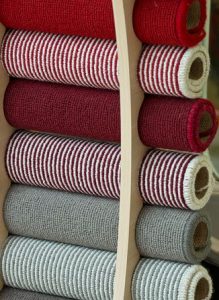 There are so many advantages to installing carpet in your home. New carpeting can add warmth to a room, make it more comfortable, and set the tone for the rest of your home décor. However, before you pick out a new carpet, you should educate yourself on some of the biggest carpet buying mistakes. Check them out below.
Purchasing the cheapest underpad possible.
Look, we get it. It's not easy to shell out a bunch of money for an underpad that you're never going to see until the next time you replace your carpeting. Nevertheless, a high-quality underpad will make all the difference when it comes to your new carpeting. It will make it feel great under your feet, and it will ultimately make the carpeting last longer than it would with a cheap underpad.
Choosing the wrong type of carpeting based on your lifestyle.
Most people know that it's not a great idea to install white carpeting in a home with kids and pets. But you might be surprised by how many people fail to choose carpets with built-in stain resistance or colors that make it easy to hide dirt, dust, debris, and more. If you're going to be walking on your carpet a lot or simply spending time in the room where it's going to be, keep that in mind and look for carpets that will mask any imperfections. You'll be glad you did later.
Hiring an inexperienced carpet company to install your new carpeting.
You can pick out the absolute perfect carpeting for your home. However, if you trust an inexperienced carpet company to install it for you and they don't do a good job, what does it even matter? You want to work with a company that knows what they're doing so that your carpet installation gets done right.
If it's time for you to install new carpeting in your home, Carpet Closeouts can get it done for you and make sure your carpets look great. Call us at 602-493-7700 to start carpet shopping.