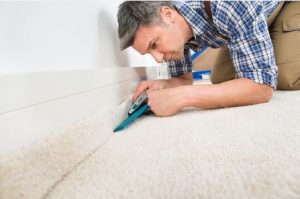 Are you going to be laying new carpet in your home or business at some point in the near future? Putting down a new carpet isn't as difficult as it might seem, but you can make life much easier on yourself by following a few simple tips. Check out how to make your carpet installation go a lot smoother below.
Make sure you have the right tools for the job.
There are certain tools that you need to have when installing a new carpet. For example, you can't install carpeting without a seam iron, a knee kicker, and a power carpet stretcher. The carpet stretcher, in particular, is very important. Without it, you will notice lumps and wrinkles in your carpeting from the moment it's installed.
Resist the urge to place carpet tack strips flush up against a wall.
You might be tempted to take the carpet tack strips that you're going to use to hold your carpeting down around the edges and stick them right up against the wall. This is not the right approach to take. Instead, you should leave a very small space between the wall and carpet tack strips for the carpet to go. It will ensure you have a tight fit once your carpeting is installed.
Keep your carpet pile direction uniform before seaming.
If you're installing carpeting with a pattern on it, you will obviously want to seam two pieces of it together while keeping the pattern consistent. However, you should also keep carpet pile direction in mind before you do any seaming. When you look at carpeting in the right light, you'll be able to see the direction of your carpet pile. Make sure two pieces of carpet have the same pile direction before seaming them together.
Buy more carpeting than you need if you're installing a patterned carpet.
When you install a patterned carpet, you're going to want to keep the pattern when you seam it. That might mean cutting more carpeting away than you plan to. By buying a little bit of extra carpeting, you can avoid coming up short if you're forced to cut a bunch of it away.
While it's not impossible for a home or business owner to carpet a room on their own, you should trust the professionals to do it if you don't feel up to the challenge. Carpet Closeouts can provide you with new carpeting for your home or business. Call us at 602-493-7700 today to check out our large selection.