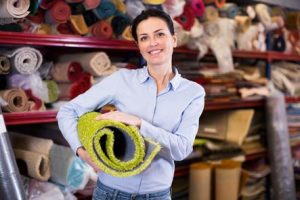 Picking out the perfect carpet for your living room might be more of a process than you think. There are so many options available, which can make it tough to choose the one that would be best for your home. Fortunately, there are some trade tips you can keep in mind to help narrow down your search. Take a look at those tips below.
Consider which material would be best for you and your family.
There are three types of material that are used to create carpeting today: wool, wool mix and manmade fiber carpets.   Wool carpets are great for those looking to add elegance to a living room. They'll insulate a living room and bring down the noise levels as well. Wool mix carpets, meanwhile, are a practical choice for those looking for something that's resistant to wear and easy to clean. They're ideal for busy families who need something durable. Moreover, man-made carpets are known for being both attractive and tough. They can handle just about anything you throw at them and would work well for families with small kids and pets.
Pick a color that complements the size of your living room.
Most people pick the color of their living room carpeting based solely on preference. They see a color they like and decide to go with it. However, you should consider the size of your living room when choosing carpets. If your living room is on the smaller side, a neutral color can make it look larger than it really is. If your living room is large, a darker color can make it look warmer and inviting.
Test out different kinds of carpet before making your final decision.
If you want to shop around for carpets for your living room, it's easy enough to do it right online. However, nothing beats seeing different types of carpeting in person and feeling them for yourself. Make sure you really like a carpet before buying it by checking it out in real life and running your hands over it.
Follow these tips and you'll have no problem finding the right carpeting for your living room. Carpet Closeouts can show you lots of options and help you pick out the best carpet for your home. Call us at 602-493-7700 to find out what we have in stock.