Carpeting is among the most popular flooring options. Carpeting rose in popularity in the 1950s, during the post World War II housing boom. Wall-to-wall carpeting quickly became a luxury most people wanted in their homes. Now, more than 60 years later, carpeting is still used in many households across the world.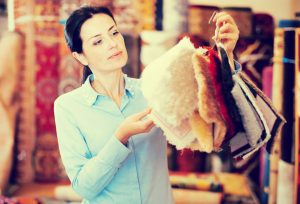 Here are some of the benefits of carpeting:
Comfort
One of the most alluring properties of carpeting is how comfortable it is. A plush carpet can create a warm and inviting environment in any room. It instantly makes a room feel cozier and more relaxing.
Insulation
During colder months, carpeting can provide insulation to help keep our home warm. This insulation can also help reduce your energy bill since it will take less to heat and keep your home warm.
Noise-Reduction
Carpeting is an excellent option for people looking to create a quieter room or household. Because carpeting absorbs the shock of footsteps and other sounds, it can help reduce unnecessary noise. This is a great flooring option for a theatre room or studio.
Economically Friendly
When compared to other flooring options like hardwood, carpeting can be much more accessible for those that are looking to spend a little less. While carpeting is a more affordable option, you will not be compromising on quality. There are many high-quality carpeting options available at reasonable prices.
Wide Variety
Carpeting comes in many different styles, materials, and patterns. Whether you want an extremely plush shag carpet or a more subdued wool carpet- the possibilities are endless. No matter what your design goals are, there are carpets available to meet those needs.
If you are shopping for new carpeting or area rugs, visit Carpet Closeouts in Arizona. Carpet Closeouts provides high-quality flooring options at wholesale prices. Browse our newly available carpeting today!