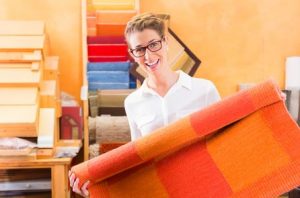 Putting new carpeting in your home is one of the best ways to breathe some life back into it and modernize it. However, before you start installing carpeting throughout your house, there are some things you should carefully consider. Check out the things you'll want to think about prior to residential carpet installation below.
How much do you want to spend on your new carpet?
The first thing you'll want to do when installing new carpet is come up with a budget. The price of carpeting ranges greatly depending on what you're looking for. You'll be able to narrow down your search quickly when you have a specific figure in mind as far as budget is concerned.
Is your new carpet going to get a lot of foot traffic?
If you're going to be putting your new carpet into a high-traffic area, you'll want to choose something that will be able to mask stains before you get around to cleaning them. You'll likely want something that's darker with a relatively low pile. However, if your new carpet is going in an area that won't get used much, you should consider lighter colors with higher pile. Either way, you should think about where you're installing your new carpet before making your final decision.
How much maintenance are you prepared to do to your new carpet?
Once your new carpet is installed in your home, you'll be responsible for maintaining it over the years. If you choose a carpet that needs to be maintained regularly and you don't have the time to do it, it could force you to replace your carpet sooner than expected. You should inquire as to how certain types of carpet need to be maintained when shopping around.
How will your new carpet work with the rest of the design elements in your home?
While you might not necessarily realize it, the carpeting in your home really sets the tone for it. If you choose new carpet that clashes with the colors on your walls or doesn't go well with your furniture, it's going to bring down the aesthetic appeal of your home. Make sure you choose new carpeting that complements other design elements nicely and ties everything together.
If you need a hand picking out and installing new carpet, Carpet Closeouts would be happy to help. We have tons of residential carpeting options in stock and can tell you all about them. Call us at 602-493-7700 to start your new carpet search.