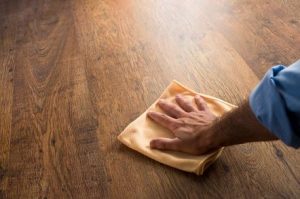 Just like you would regularly vacuum carpeting, hardwood floors need regular care and cleaning, too. One of the best ways to help ensure your hardwood flooring lasts a long time and looks good for years is to get in the habit of dusting it habitually. By dusting your floor daily, you're getting both dust and dirt off of it. If you use a dust mop, it helps prevent scratching while also removing allergens from the home. Try using a microfiber mop– it utilizes a static charge to attract dust and allergens well.
As for cleaning hardwood floors, experts advise that you do so on a weekly basis. Now you don't want to use too much liquid on your floors, or too little. Ideally, you'll want to do some research online to figure out what works best for cleaning your particular floors. Most ideal, perhaps, are pH-neutral, nontoxic and biodegradable cleaners. Be careful, though, with things like vinegar, which can eat away at finish.
When's the last time your polished your hardwood floors? Oftentimes, people don't do this, and then their floors become dull over the years. You can and should use water-based polishes on your hardwood flooring every three months or so. Water-based polishes help restore luster and shine. You can also use urethane-based polishes if you choose. They're known for adding a nice protective layer over the wood without a waxy buildup. Meanwhile, they fill in little scratches and help even out the floor's appearance– kind of like "make-up" for your floors!
Other tips for cleaning and/or maintaining hardwood floors include: using felt protectors on furniture bottoms, not walking on the floors with high heels, trimming pets' nails, wiping up spills immediately rather than letting them linger, using a dehumidifier so there's no extreme humidity, and using all-natural products rather than anything harsh or chemical, if possible.
Did you know Carpet Closeouts offers hardwood floors? We're not just carpeting. Indeed, you can learn more about our hardwood floors here.
People in Tempe, Scottsdale, Phoenix and other areas of Arizona often visit our store to see what we have; won't you? Come to Carpet Closeouts at 17442 N. Cave Creek Road in Phoenix to find premium brands at wholesale prices.