Hardwood floors can be expensive, but there's a viable alternative. It's called vinyl plank flooring, and it looks just like hardwood but at a fraction of the cost.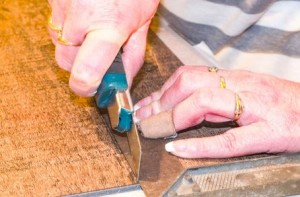 Are you thinking of new flooring in your home? Do you love the idea of hardwood but don't want to spend so much money on its installation? Consider vinyl plank flooring then– it comes in a variety of styles, like oak and hickory. Therefore, you can match the color and grain with what you have in mind to best suit your room(s).
When vinyl plank flooring is installed, it typically is backed with a felt product which makes the floor softer, with more "give." So, the top of the floor stays strong, like hardwood, but it's "cushioned" underneath, making it more comfortable to stand on for long periods of time. Meanwhile, if you drop items on vinyl, they're less likely to break and shatter compared to the times they make impact on actual hardwood.
Since vinyl plank flooring is water resistant (and in some cases waterproof), it can be used in bathrooms and kitchens.
Should you already have a subfloor and just want to have the vinyl plank installed over it, that can be done.
Expect vinyl plank flooring to last up to 20 years and be pretty much maintenance free over the years, save for some occasional sweeping or mopping.
If you've been going back and forth between vinyl flooring and laminate, understand that vinyl is plastic while laminate is mostly wood. Vinyl offers superior resistance to moisture. With wood flooring product, if the dishwasher overflows, or there's flooding in general, you're probably going to have to replace the laminate all together to avoid mold and mildew problems. While laminate gained a foothold as a good choice for the kitchen floor decades ago, that was mainly because it looked like wood and could be installed by homeowners themselves. Vinyl plank flooring, however, has replaced laminate in popularity because it's the better choice for today's world.
Finally, another reason to consider vinyl plank flooring is this: there's always the option of installing in-floor heat underneath certain vinyl plank flooring.
If you would like to discuss the best flooring solution for your needs, contact Carpet Closeouts today.