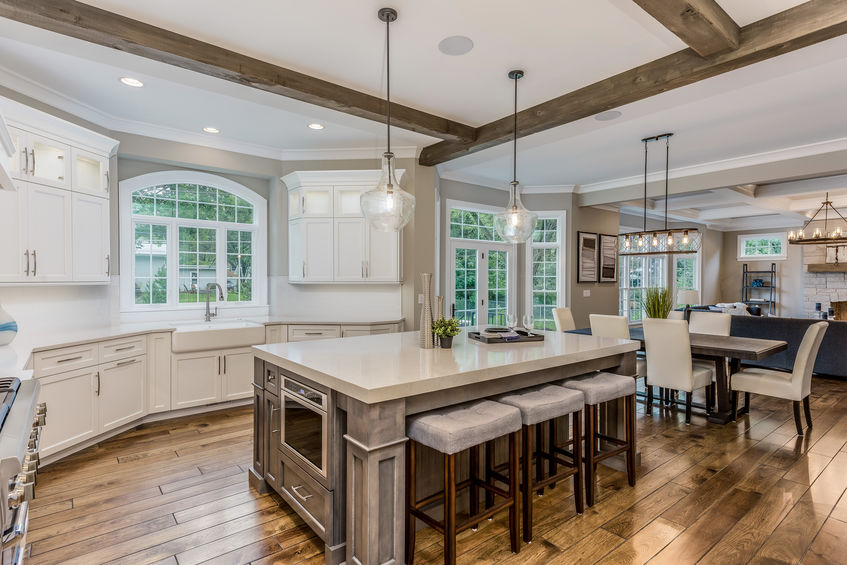 Over the recent years, the farmhouse style has been increasing in popularity. If you're considering remodeling your home, and giving it a rustic touch, allow us to help! At Carpet Closeouts we have the perfect flooring options for your farmhouse.
Here are a few of our favorite ways to incorporate farmhouse flooring into your home:
Install Wide Plank Flooring Throughout Your Home
If you're installing hardwood floors, consider adding flooring with wide planks to help complete the look of your farmhouse décor. Wide planks help give your home an authentic old-world look. Plus, wide planks will help make your room look much larger too!
When you're shopping for wide plank flooring, search for planks that are about 6 to 7 inches wide!
Look for Lighter Wood Shades
When choosing your flooring, always go for lighter shades as opposed to darker shades. Natural, whitewashed, or gray finishes are popular in farmhouses today. One of the biggest perks of using light-colored floors is that it will help brighten up your space while making the room look larger!
Experiment with Vinyl Flooring
Remember, you don't always have to stick with the traditional hardwood flooring for your farm house. There are plenty of vinyl flooring options available that would look great in your home. Vinyl floors are available in various patterns and can give you the same look and feel of hardwood, but at a more affordable price.
Vinyl is a great option for busy households because it is waterproof and easy to clean!
Tile Options for Farmhouses
Slate, terracotta, and patterned tiles can give your floors a unique farmhouse look. Tile is also a very durable flooring option and is a great option for your kitchen and bathrooms. There are plenty of tile flooring options available, so you are bound to find one that compliments your décor!
Purchasing Flooring for Your Farmhouse
If you're looking for the perfect flooring to add to your farmhouse, come check out our selection at Carpet Closeouts. We are a discount carpet and hardwood flooring seller, offering the best flooring technology at bargain rates! Do you have questions for us? Please give us a call at (602) 493-7700 to learn more about our flooring types and current specials!