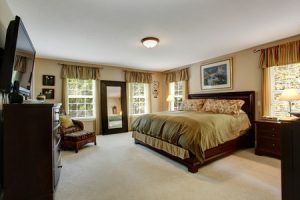 When you're getting ready to pick out the right carpet for your bedroom, what are some tips for doing so?
Budget
First, consider your budget. How much do you want to spend on the carpet, and what can you truly afford right now? Obviously, you'll want to look at carpeting that fits your budget.
Colors
Next, think about what color or colors you might like– colors that would go well with the color(s) of the wall, your furniture, bedspread, etc.
Texture
Also, do you have in mind a certain texture you think you'd like to look at every day, and feel on your bare feet? Some people like a "fluffy" texture, while others want one that's very "matted." In the carpet world, the texture is its "pile," and there's saxony pile (plush/fluffy), twist pile (coarse/rugged) or velvet pile (soft/sumptuous), for examples. You can ask your carpet salesperson about different textures, and don't be afraid to test them out using your bare feet. It's not everyday that you're in a store where you can sample all sorts of carpeting, so whenever you get the chance, take it!
Complementary Carpeting
Color-wise, you can't go wrong with a neutral one for your bedroom– tan, brown and gray are safe and good choices. Keep in mind you might want darker carpeting which helps hide dirt and stains. If you buy a patterned carpet containing two or more colors, that'll help liven up an otherwise dull bedroom. Be careful with "loud" or "bold" colors– they might be too stimulating for a bedroom. Since a bedroom is where people sleep, pick soothing colors. A lot of people really like dark shades of blue in their bedrooms, which give off a calming effect.
Bedroom Carpets at Wholesale Prices
At Carpet Closeouts in Phoenix, AZ, we have a variety of nice carpeting for bedrooms. Since people spend eight to ten hours sleeping, it makes sense that the carpet in their bedroom helps them relax and feel luxuriously comfortable. It's one of the "sanctuary" rooms in a home where people should feel extra good.
Please visit our discount carpet store located at 17442 N. Cave Creek Road to see what's in stock. We're open weekdays 9 to 6 and Saturday 9 to 5/Sunday 12-4. If you have any questions, call 602-493-7700.