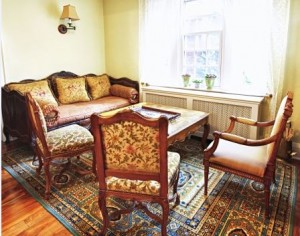 Many homeowners have gone away from installing wall-to-wall carpeting in their homes and have opted to install hardwood, laminate, or tile instead. Nevertheless, this does not mean that you will not find any carpeting in the average home, because many of those same homeowners have also opted to incorporate area rugs into the designs of their homes. Area rugs can protect flooring in high-traffic parts of a home and enhance the overall design. Check out a few tips for decorating around an area rug below.
Avoid trying to match the colors of your area rug and your furniture.
There are some homeowners who purchase an area rug and then spend months trying to find furniture that matches the rug. You obviously don't want to pick out contrasting rug and furniture colors, but you also shouldn't drive yourself crazy trying to make a match happen. Instead, pull out one or two colors from the rug and use them for inspiration for your furniture. It will help tie your whole design together.
Consider how large your area rug is compared to your furniture.
One of the biggest mistakes homeowners make when buying area rugs is buying rugs that are too small in comparison to their furniture. A small area rug will make an entire room feel a lot smaller than it really is. In general, you should try and have your area rugs go beyond the edges of any large furniture. This will make everything look to scale and prevent you from making your area rug look very tiny.
Choose a rug that will warm up the rest of your flooring.
When you have a lot of hardwood, laminate, or tile flooring throughout a home, it can sometimes feel very cold. By placing area rugs strategically over certain parts of your flooring, you can actually make it "pop" more, especially in long hallways and other areas where the flooring might seem never-ending. So keep this in mind and look for spots where you can use area rugs to make your floors look even better than they already do.
At Carpet Closeouts, we carry a large selection of area rugs and can help you pick out the rugs that will work best in your specific home. To check out what we have in stock or to ask any questions you might have about area rugs, call us at 602-493-7700 today.