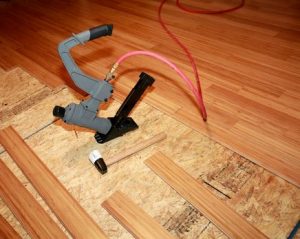 When you decide to install new flooring in your home, you will have many different options to choose from. Some people will settle on carpeting, while others will go with tile. Nevertheless, one of your best options is hardwood flooring. There are many advantages to hardwood flooring; check out a few of them below.
It will make your home look and feel warmer.
Hardwood flooring features an unmatched classic look that will instantly add a certain warmth to any room. It will also make your home feel warmer as wood is known to be a great insulator. It will hold warmth and distribute it throughout your home when it starts to get cold outside.
It will stand up to whatever you throw at it.
Hardwood flooring is one of the most durable types of flooring on the market. It can stand up to almost anything. It can also be sanded and refinished multiple times before it will need to be replaced. It's why some hardwood flooring can last for more than 100 years, if you take the time to care for it properly.
It will prove to be easy to maintain.
Once you've had hardwood flooring installed in your home, you will quickly see just how easy maintenance is on it. Unlike other types of flooring, wood won't trap dust, allergens, and other pollutants that can affect your air quality. Those things will sit on top of the wood, and all you will need to do to remove them is wipe the floors down and occasionally clean them. It's one of the biggest benefits of installing hardwood flooring.
If you're thinking about having hardwood floors placed into your home, Carpet Closeouts is qualified to do it for you. We have an excellent hardwood floor selection and can see to it that your floors are installed properly so that they last for many years. Call us at 602-493-7700 today to start looking at the hardwood flooring we have in stock.