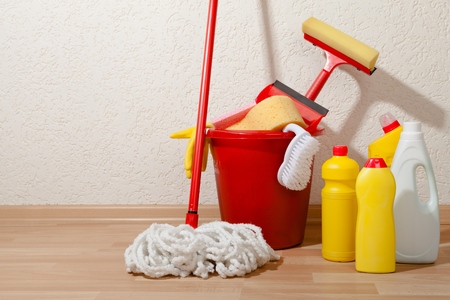 Hardwood floors are a quality investment for your home. They are easy to maintain, last a lifetime, and increase your property value. With spring just around the corner, now is a great time to start preparing for the season with a thorough clean up. Although hardwood floors don't require a lot of maintenance, most people don't know how to clean them properly.
Here are a few tips for cleaning your hardwood flooring this spring:
The first step to cleaning your hardwood floors is to move everything out of the way. Items like furniture, area rugs, and floor plants need to be moved for a thorough clean. Heavy furniture should have felt pads underneath them, so they do not scratch the flooring. If you do not have felt pads, you can make some yourself with felt from your local craft store.
Sweep
Brooms are a classic staple for cleaning floors. You can use a standard broom with plastic bristles or microfiber broom. They both work well, but the microfiber broom helps to lock in dirt and debris with a microfiber pad that can be disposed of after clean-up.
Vacuum
Vacuums are not just for carpets! A vacuum designed for hardwood floors can be an excellent option for cleaning and maintaining your floors. Before vacuuming your floors, be sure that the vacuum is designed specifically for hard surfaces.
Mopping
This is where many people make mistakes by mopping their hardwood floors incorrectly. Most people oversaturate their floors during mopping, which causes water damage. Make sure to wash your floors using a damp mop. Opt for a mop that can be easily wrung out so that you don't accumulate too much water.
After you have swept or vacuumed your floors, you can mop to remove any stuck-on dirt. Combine water and a wood soap cleaner in a bucket. Thoroughly saturate your mop and then wring it out damp.
Now you can begin mopping your floors. If you have a lot of rooms to cover, it is best to swap out the water, so you are not applying dirty water to the other floors.
These tips will help you clean your hardwood floors safely without damaging them.
Carpet Closeouts in Phoenix, AZ, specializes in providing a variety of high-quality flooring options. With over 80 different styles of wood flooring, we can help select and maintain your hardwood flooring! If you are interested in changing your home's flooring, contact us today for a quote!