Installing hardwood floors provides homeowners with many advantages. Outside the fact hardwood flooring will look amazing once you it put in, it's also easy to maintain over time. Plus, hardwood flooring will increase the value of your home and make it simple to sell one day when you eventually put it up on the market.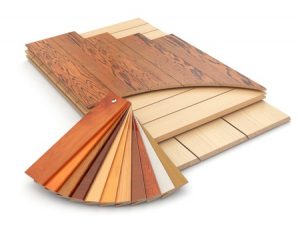 Prior to installing hardwood flooring in your home, though, you should think long and hard about which color hardwood you're going to go with. You can find everything from hardwood floors that are so light that they almost look white to hardwood floors that are a very dark brown color. The possibilities are virtually endless as far as hardwood flooring colors are concerned. Check out some tips for choosing the right hardwood flooring color below.
Consider the size of the room in which you're installing hardwood flooring.
Are you going to be installing hardwood flooring in a relatively small room? If so, going with a lighter-colored hardwood flooring is probably going to be your best option. Lighter-colored hardwood flooring will make a room look and feel bigger than it actually is. You can also use lighter-colored hardwood flooring in a larger room if you'd like, but you shouldn't feel like you have to do it if you prefer a darker shade.
Figure out what vibe you want your hardwood flooring to give off.
The hardwood flooring color that you decide to go with will give off a certain vibe once your new floors are installed. For example, if you go with darker-colored hardwood flooring, it'll often add a touch of elegance and sophistication to your home. By figuring out what you want your hardwood flooring to say, you can come up with a few colors that will set the right tone in any room in your home.
Think about how sunlight could impact your hardwood flooring.
Will you be installing hardwood flooring in a part of your home that gets a lot of natural light? You should think about how sunlight might affect the way that your floors look. You should also think about how the UV rays from the sun might cause darker-colored wood floors to fade over the years. You can find ways to limit the amount of sunlight that is able to hit your floors, but it's a good idea to consider what impact the sun could have on your hardwood flooring when you have it installed.
Keep the wear and tear that will be put on hardwood flooring in mind.
If you're installing hardwood flooring in a part of your home that gets a lot of foot traffic, it'll be essential for you to factor this into the equation. You'll want to go with a hardwood flooring color that's capable of masking the dirt, dust, mud, and other debris that will inevitably find its way onto your floors. You'll also want to find hardwood flooring that will cover scuff marks and other marks left behind by those walking on your floors.
Lean on a hardwood flooring expert for assistance.
One of the things that you're going to quickly realize when shopping for new hardwood floors is that there are a lot of color options for you to choose from. There are so many options that people often get confused and overwhelmed while trying to pick out one specific hardwood flooring color. If you find yourself in this situation, make sure you lean on a hardwood flooring expert for help. They can talk to you about which hardwood floors would work best for you based on which part of your home you're going to be installing them.
Do you need a hand selecting the right hardwood flooring color for your home? Carpet Closeouts has plenty of hardwood flooring colors to choose from. We can help you sift through them and find the right type of floors for your home. We can also show you a wide range of colors and speak with you about which ones might work well in the various rooms within your home. Call us at 602-493-7700 to start the process of picking out new hardwood flooring.