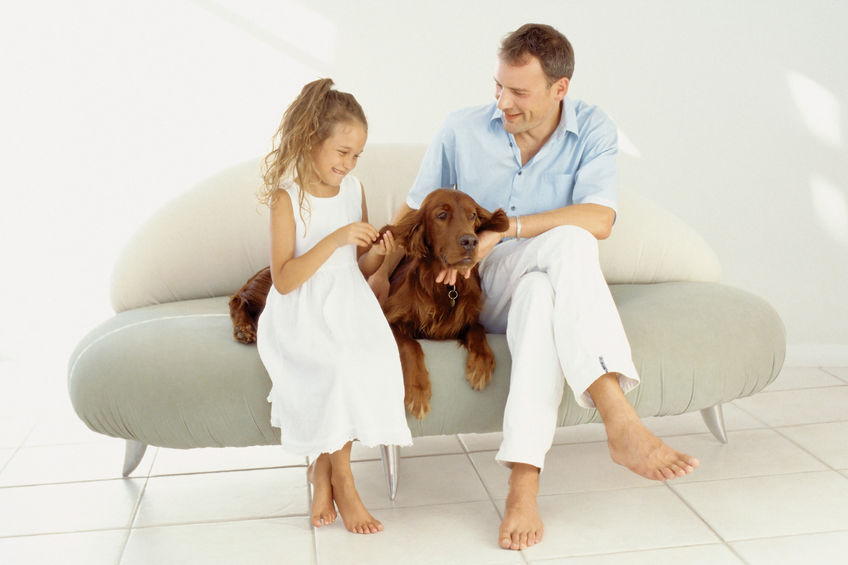 For most people, pets are an extension of their family. While owning a pet can be very rewarding, cleaning up their messes can become overwhelming. Pet owners will often find that their pets will destroy their carpets rather easily, often through no fault of their own. From urine and pet dander to hair and fur, you will discover all kinds in your carpeting when you have a pet.
Fortunately, there are plenty of other types of flooring that are perfect for pet owners.
Here are a few of the best options:
Tile
Pets have a tendency to leave scratch marks on certain types of flooring, including those made out of durable hardwood. Nevertheless, with tile flooring, that won't ever be a problem. It's very difficult to scratch tile floors, so you won't have to worry about your pet scratching them. You also won't have to worry about them urinating on the floors since tile is very easy to clean and maintain. The only problem is that tile flooring isn't especially comfortable for pets to sleep on, but you can fix that issue by putting down an area rug or two for your pets.
Stone
Much like tile, you won't have to worry about your pets scratching a floor that is made out of stone. Most stone is even more durable and scratch-resistant than tile. Whether you want to go with granite, marble, travertine, or some other kind of stone, stone flooring is ideal for pet owners who don't want to worry about their pets damaging their floors. Stone is also easy to clean up for those who have pets that have accidents inside.
Bamboo
While hardwood floors aren't especially good for pets, especially those that haven't been house-trained, bamboo is a different story. It's an extremely hard type of wood, which means it will stand up to almost anything your pets throws at it. It's also stain resistant, so you won't have to worry about urine making it turn awful colors. Bamboo is a better option than hardwood flooring.
At Carpet Closeouts, we know that it can be a challenge to find the right kind of flooring for you and your pets. We would be happy to help you as you search through our flooring options. Call us at 602-493-7700 today to hear more about the flooring we have in stock.