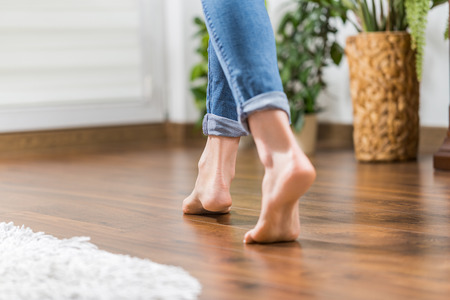 Hardwood floors have a classic look that is simple and easy to maintain. There are many benefits to installing hardwood flooring in your home. This is also something people look for when shopping for a new home.
According to a Money.com report, hardwood flooring increases home value by at least 3-5%. This is great for those who are planning to sell their home or just for homeowners wanting to increase their home value.
Here are some of the benefit of installing hardwood floors:
Strong & Durable
One of the most important qualities of flooring in your home is that it is durable. Hardwood flooring can last for decades with proper maintenance.
Great for Allergy Sufferers
Because wood is a hard surface, it does not trap dust, pollen, and pet dander. This is great for those who have issues with allergies.
Low Maintenance
Hardwood floors require very minimal maintenance. It is less prone to defects like damage from spills, pet waste, or other mishaps. Over time you may want to refinish or polish your hardwood floors, which will give it a nice luster and fresh new look.
Improves Acoustics
Hardwood flooring reduces hollow sounds and vibrations, which can enhance the overall sound in the room.
Extremely Versatile
There are many different options for hardwood flooring, so it will be able to adapt to a variety of homes and interior designs.
Carpet Closeouts of Phoenix, AZ, is the premier source for hardwood coloring and carpeting options. Carpet Closeouts in Arizona offers low-cost hardwood flooring options for homeowners and business owners near Tempe and Scottsdale. There are over 80 different styles of wood flooring with a variety of different shades, textures, thickness, and brands.
If you are interested in installing hardwood floors in your home, check out the variety of flooring options and then request your quote today!